Tuesday, May 10, 2011
9:00 AM
I'm featured over on For The Love of Blogs! It's a pretty awesome feeling! Go check it out!
Our next guest poster is the lovely Jenn from Worth a Fig! She has written a tutorial for us that sounds so awesome! You should definitely check it out!
I sat down at the table in the morning with my three year old daughter to enjoy a breakfast of a wholegrain bagel with cream cheese and orange marmalade. I was feeling a bit under the weather and I seriously needed a pick me up. I was tired, bored, and my hair looked simply hideous. With a sigh I sipped my coffee and leafed through a book called
The Beauty Cookbook
. I was looking for ideas for my weekly feature called
Makeover Monday
, and I also wanted to whip something up for my guest post here at Simply Kate. That is when I stumbled across something that made me laugh out loud. The recipe was called "my hair needs a bagel with that conditioner" and I had everything I needed sitting right on the kitchen table. So I pulled out the blender and whipped up a pick me up for my tired, limp hair... and I hoped that my spirits would lift right up with it.
Here is a shot of my dry, brittle hair before the treatment.


All I did was combine 1 egg, a tablespoon of cream cheese, 2 tablespoons of butter and 2 tablespoons of water in a blender and processed it until it was smooth. I combed it all through my hair and let it sit for 15 minutes while I checked my email. It smelled kind of odd. I'm not used to applying cheese and butter to my hair... but it was thick so it stayed put and didn't drip on my clothing. That said, I would put on an old bathrobe for this one and not that sexy silk kimono.
After the timer when off I jumped in the shower (actually I stepped into the shower... you should never jump in the shower) and rinsed the eggy-cheesy gunk out of my locks. I shampooed twice just to make sure that I got all the oily residue out of my hair. I was planning on letting my hair dry naturally because that is what I usually do. My curiosity got the best of me, however, so I got out the blow dryer to speed up the process.
I was pretty impressed with the results. I wouldn't recommend this treatment for everyone, but since I wear my hair in a bob it worked great for me. The treatment gave my hair a glossy shine that might not work for people who wear styles that need more lift and volume. My hair also felt more plump... and for a person like me with very fine hair that was a nice thing. I don't think that I'll do this treatment often. For one thing the smell of the cream cheese kind of clings to your hair and when you blow dry you get a sudden craving for cheesecake or fondue. I also think that it would lead to a waxy build up after a while. It is a great way to add shine to over-processed hair, however, and a great way to add a moment of pampering into an otherwise busy day.
My husband told me how nice my hair looked when he got home from work... with absolutly no fishing on my part at all. He didn't even know that I had put cheese in my hair when he said it. It really must have done something... or maybe I just smelled like breakfast.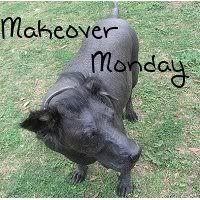 Stop by on Monday and join the fun!
Thanks for the great post and the awesome tutorial! I might have to try that sometime soon!
Go and check out Jenn's blog, Worth A Fig! She's fabulous!
Tags:
Birthday
,
Guest Blogger
,
Guest Posts
,
Worth A Fig